The title of this piece may seem like an oxymoron, so let me tell you exactly what a "living" ghost town is.  I learned this myself on a recent drive to Randsburg, Ca. with Carolyn. Randsburg sits just off highway 395, on a plateau of the Mojave desert at 3500 feet.  It is called living because a few residents (80 in all) still live there, and also because the town is maintained to keep its dated character.
An abundance of colorful wild flowers were in stark contrast to the bleak brown hills this fascinating village is nestled in.
Carolyn and I drove there out of curiosity, thinking we would find a collection of dilapidated buildings and perhaps an artifact here and there.   With people still dwelling there, one can't truly call the place abandoned, but it mostly is.  I would describe it perhaps as a bit of a time warp, a place that has been largely left unchanged, except for a few embellishments added in the name of tourism.
We found mostly decaying structures, historical relics including a tiny jail cell, and rusted-out abandoned vehicles crouching in empty lots. There are a few places still open -a general store, saloon, antique shop, museum, and bed 'n breakfast but mostly on the weekends.
The General Store was the only one open on this day, so we decided to have a quick drink before hitting the road. The soda fountain dates back to 1904 and the malts created there are amazing or so Carolyn said.  The staff were very friendly and proud of the fact of they live in Randsburg.
What I liked best about Randsburg is the fact that its residents have gone to great lengths to keep the town exactly as it was a century ago. The wall outside the Rand Mining Company sports a faded sign saying, "Everything for Blasting" and the local post office sign proclaims that it is the "End of the Trail" over a cow's skull that greets visitors at the front door.  All around the town you can see bumper stickers affixed to various vehicles and business windows reading "Where the hell is Randsburg?"

A short hike up the hill you can find several gravestones with colorful epitaphs annoucing the final resting place of robbers and bandits, but I was told these were put here for the entertainment of tourists and were not authentic.
As we were there on a weekday, it was just like a creepy movie setting, with not a sound to be heard except the creaking of rusty gates in the wind.  And Carolyn slurping her malt.
Overall we didn't find Garlock once known as Cow Wells, as appealing, but to be fair we really only drove by it, as it was late in the day and we feared that phantasms would soon be stalking its eerie streets.  Have you ever visited a ghost town?  Would you like to?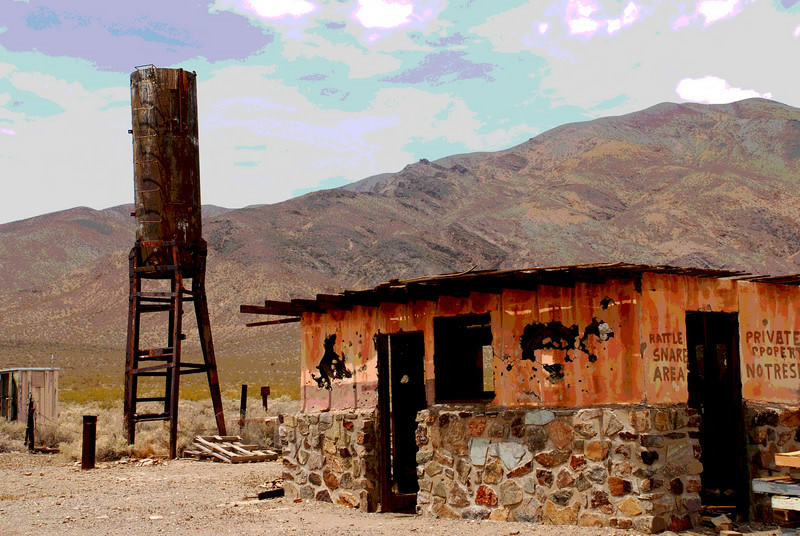 Comments
comments
Powered by Facebook Comments