Tucked away among the ledges and surrounded by serene  mountains and old forest growth is a hidden gem, the Maine Audubon Sanctuary's Borestone Mountain. Originally operated as a fox farm in the early 1900s, the property was bequeathed to the National Audubon Society by its owner, ornithologist Robert T. Moore.   
Despite its modest elevation of 1,947 feet, the precipitous glacier-scoured summit ridge of the mountain offers a 360-degree vista.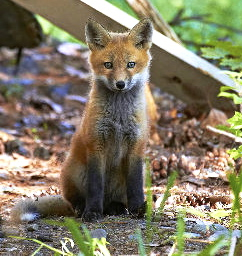 There was plenty of wildlife to view as well.  I was wondering if this young fox was a descendant from a fox of the original fox farm.  
As if Borestone isn't enough of a reason to head off the beaten path in Monson, just a short distance from the trail head lies beautiful Little Wilson Stream.  Little Wilson Stream's upper falls is a scenic landmark in Maine's '100-Mile Wilderness'  which is the most remote section of the Appalachian Trail.  
Comments
comments
Powered by Facebook Comments