Jonathan's friends from Boston, Melissa and Carolyn arrived in to town and so we've been taking them on various day trips.
We aimed high right on the first day, taking them north to Los Padres National Forest, near the town of Ojai, which is sort of a new-age mecca.  Quite a few celebrities, authors, philosophers have dwelled there.
Unfortunately we couldn't really afford to spend much time in Ojai, as it was already after 1 PM when we arrived, and we had many mountains to traverse ahead.   A few minutes later we crossed the border in to the park, traveling steeply uphill between gorgeous mountains on winding roads.
Not far in to the park is the visitor center, where we purchased post cards from a kindly old man, who called me "pumpkin".   On the front porch of this little wooden building were several hummingbird feeders, though we only saw one of the tiny creatures.
A short time later we stopped again, and took a pleasant little hike along a rocky stream through the hills.   It was also very convenient, as it looped us back around to the car.
At one point on the trail we came to a hollow tree, in which there lived a small forest gnome, who smiled to us from out the trunk.   He asked us to stay for tea and have some fun, but we decided to keep moving.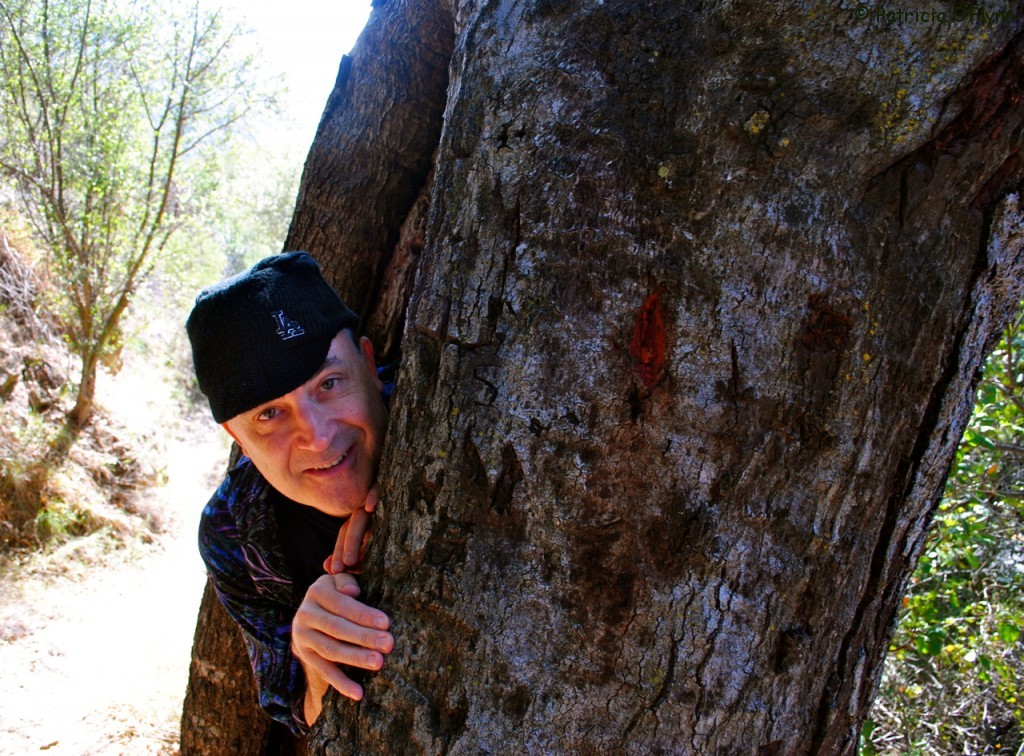 The mountains were getting higher and more spectacular, the road treacherously beautiful, with many hairpin turns, and rock slide warnings.
Looking for another hiking trail, we plunged down a steep side road and followed it far down in to a valley.   Far at the bottom was a park, with trails, and some mules in a pen that we briefly patted.
After finding the trail head, we were off in to the woods.  A rocky river ran back and forth across the path, and we had to repeatedly ford it using logs and stepping stones.  Carolyn got her foot wet, but that was the worst of it. Climbing the sunny banks beyond the river, we saw trees laden with gigantic pine cones.  It felt wonderful to be away from the city, breathing clean air, and enjoying the company of nice people.
Ever conscious of the clock, we only went a short distance down the trail, then crossed the river several more times to get back.   Driving out of the valley, a bird ran across the road in front of us, and there are those who claim it to be the fabled roadrunner, causing much excitement in front seat and back.
Returning to the main road we drove past stunning vistas while listening to Native American flute solos.  Though tiring, we were still in high spirits.   At one overlook, we saw beautiful red rock peaks stretching for miles beyond us.   Melissa took the helm, replacing Jonathan as driver, and we plummeted ever downward to the outskirts of the forest, a lovely area of white rock and greenery, before finally leaving the preserve and entering a strange little town.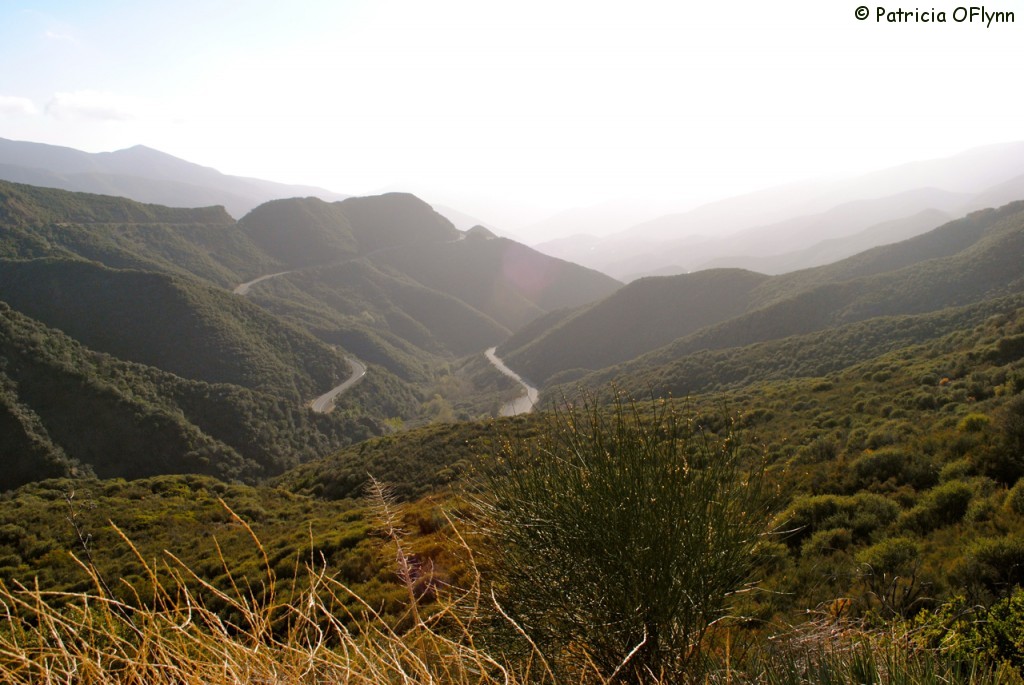 Picking up Route 5 south, which at this point splits between Los Padres and our equally beloved Angeles National Forest, we absorbed spectacular cloud formations and a deep orange sunset.  Pyramid Lake was particularly lovely in these conditions.
Even lovelier, was the Del Taco we stopped at, where we had discount tacos and lemonade. The final leg homeward wasn't too bad.   Pitch dark, the traffic was manageable, and we arrived back to our respective nests feeling satisfied and lucky to have had such a nice day.   It was good to spend time with Jonathan's friends and to share our favorite places with them.     Please leave your comments below!
Comments
comments
Powered by Facebook Comments